2018 American Hop Convention
"Game of Cones"
Welcome to Palm Desert, California for the 62nd Annual American Hop Convention and Hop Research Council Winter Meeting, January 23-26, 2018!
We are excited to offer an outstanding lineup of speakers and events for your week of fun in the desert sun! Highlights include:
Poolside Welcome Reception with ten breweries from around the nation featuring an interesting selection of beers, along with great food, music, and an opportunity to connect with friends.
Featured Speaker: James Watson, Beverage Analyst for Rabobank, evaluates beer and other beverage sectors. He will evaluate trends and economics from the brewery side of the business and how this relates to grower perspective and opportunity. James is a CFA and former equities analyst with deep knowledge of the consumer food and beverage space. Prior to joining Rabobank, he spent 10 years covering beverages at HSBC. Sponsored by Rabo AgriFinance.
Featured Speaker: Dr. Eric Snodgrass, Director of Undergraduate Studies, Department of Atmospheric Sciences, University of Illinois at Urbana-Champaign. Long-range forecasting, weather and climate change risk, climate-modeling analysis...if weather impacts your "game," don't miss this session! Sponsored by Northwest Farm Credit Services.
"Hops and Props" Evening Event at the Palm Springs Air Museum: Grab your flight jacket, aviators, and dancing shoes! This 1940's themed event will transport you to the days of the "Greatest Generation" with great entertainment, food, and beverages! Enjoy the high-energy music of "Company B," an Andrews Sisters tribute band. Dine in the shadow of vintage aircraft, and enjoy a wonderful evening with friends and colleagues. Period costumes encouraged!
"Succession Planning for Family Businesses" - Michael Stolp, Senior Vice President, Customer & Employee Education, Farm Credit Services: Michael's experience with family business is grounded in his family's 3rd generation farm and ranch in Sprague, WA. With over 14 years in family business consulting, Michael helps farm businesses strengthen communication, enhance management and business planning, develop successors and transition assets. He will provide a one-hour introductory session on Friday at 2:00 pm, followed by an additional two-hour workshop for any growers who may wish to stay for additional discussion. Sponsored by Northwest Farm Credit Services.
Charting your next move in the "Game of Cones": Don't miss the Friday morning general session where Merchant and Brewery representatives will provide analyses and projections for the hop market.
Educational and Technical tracks: Speakers are being finalized and will be announced soon!
Trade Show and Research/Outreach Poster Session: Explore the latest technology in hop production at the Trade Show! A new addition to this year's convention is the Research and Outreach Poster Session, providing hop research and outreach specialists from across the country the opportunity to share their work with the hop industry.
Karl Strauss Brewing Company is pleased to provide this year's official 2018 American Hop Convention Beer! We look forward to discovering what kind of special treat the KS team creates this year!
Registration
Pre-register today! Complete and return your completed registration form with payment by January 15, 2018. The full packet provides a $95 discount from Ala Carte prices. In addition to tickets for meals and events, the registration fee will provide access to all meetings, sessions, and speakers on Wednesday, Thursday, and Friday. Registration information is available at www.usahops.org. Due to catering requirements for final guarantees to be provided the week prior to the event, no on-site tickets for meal events will be available. On-site registration will, however, be available to attend the meetings and speaker sessions. Please pre-register to ensure access to all events!
Convention Headquarters
The fabulous JW Marriott Desert Springs is an extravagant attraction on 436 desert acres watered by 23 acres of artificial lakes. In contrast to the desert surroundings, the hotel has water gushing everywhere: tumbling down terraces, spilling down stair-stepped fountains, feeding into ponds, and falling into a vast indoor lake. Each evening beginning at 5 pm, little motorboats full of excited vacationers pass from the indoor lake into the meandering waterways threading the grounds and drop their passengers off at two restaurants. A total of six restaurants, coffee shops and bars are located within the resort.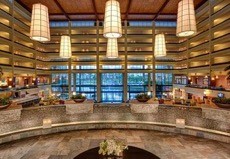 The dazzling lobby has a trendy modern bar at its core. Parrots add a jungle touch. Nooks and crannies dot the lobby where guests relax while taking in the sights.
One of five pools features a terrace and a sandy fringe of beach. A steel band occasionally plays at the second pool, and a third is a quieter plunge. Relief is a hop away with three whirlpools, 20 tennis courts (clay and grass, six lighted), 36 holes of golf (plus an 18-hole putting green), and one of the largest resort gyms in the country. The spa boasts an exceptional gym, steam bath, sauna, whirlpool, hot and cold plunge pools, lap pool, juice bar, and extensive treatment menu. Lawn games, a scenic jogging path, boat tours, bike rentals, and a children's club are all available. Several shopping boutiques are also located on-site, and guests are just minutes from the El Paseo Shopping District, a mile-long strip featuring more than 250 retailers.
Hotel Reservations
Unfortunately, our room block at the JW Marriott Desert Springs is already sold out. However, they have provided a "wait list" should future cancellations occur. Convention group rates of $219 (plus tax) will be available for reservations made before December 22, subject to room availability.
To join the waitlist, go to the JW Marriott hotel booking site: https://aws.passkey.com/go/HOP2018
While on the site, be sure to uncheck the box shown below, "Available rooms only." If you don't uncheck that box, it will not provide a waitlist.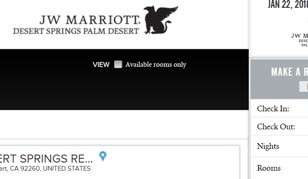 Uncheck "Available rooms only" and complete your reservation request.
You can contact the JWM or go to their normal reservation website to reserve rooms that are unavailable in the room block: http://www.marriott.com/hotels/travel/ctdca-jw-marriott-desert-springs-resort-and-spa/. The hotel is required to hold a percentage of their rooms outside of contracted group blocks for normal "non-convention" traffic. While these rooms may be at a higher rate, you may be able to secure rooms, which could be cancelled if your Wait List booking comes through.
If you've already reserved rooms and your plans change, please release those rooms as soon as possible to allow others who still need them to confirm their arrangements.
Overflow Hotel
We have contracted with a brand-new Fairfield Inn as an overflow hotel. The reservation site for our room block is: Fairfield Inn Booking Link, or call 760-636-1300 and ask for the Hop Growers room block. The rate is $139/night plus tax. For your convenience, a shuttle will run between the JWM and Fairfield Inn from Tuesday through Friday, Jan. 23-26.
Convention Hotel Shuttle: A shuttle service will be provided for Hop Convention attendees on January 23-26 during Convention event and meeting hours and leaves the Fairfield Inn on the half-hour and the JW Marriott on the hour.
Questions
Please contact the Hop Growers of America by calling (509) 453-4749 or email rbecker@wahops.org